GoDaddy Hosting Review, Web Hosting, Plans and Prices List, Pros. and Cons., godaddy uptime guarantee and more details we cover in this article read till last
GoDaddy is a very well known name in the world of web hosting and domain business, their customers are in the millions worldwide.
They provide many services such as website builders and professional email along with facilities like domain registration and web hosting.
If you did web hosting on godaddy search and you have come here then don't worry you have come to the right place, here we will give you a detailed review of godaddy web hosting.
But despite their best marketing campaigns, is it better for you than other websites? We have done this for you.
In this review , we will tell you about all the hosting plans of GoDaddy, their advantages and also about the drawbacks of using GoDaddy web hosting, let's start .
At the end of this guide, you will be able to decide whether you should use GoDaddy to build a website and whether it is the best web hosting provider for you.
Benefits of Using GoDaddy Web Hosting
Great Uptime Rates
Uptime means how long your website remains operational for you and your visitors . That's why you should take special care of it whenever you think of taking any web hosting services .
If you do not get strong uptime in your plan, then you should go for another plan soon.
The secret of the success of GoDaddy is also that it gives great uptime to its users, because of this it has been running in the market for so many years. You get 99.9% uptime in this in yearly average.
In this it may happen that some months you may get less than average uptime but in some months in year your average may also come up to 100%.
I saw a test a few days ago that the average downtime for a month for GoDaddy is 13 minutes. This should not read much difference on your website.
In this you get fast loading speed
If you used to think that the loading speed is low in cheap web hosting then your thinking is wrong. Not so with GoDaddy at all. It gives you very good loading speed if you compare them with their cost effective competitors.
Is GoDaddy the fastest web hosting provider in the market? No.
But I am sure that you will not face any problem with them in website speed, you can take any plan you want. If you take a better plan, then obviously the speed will increase in it.
In this you can easily install the app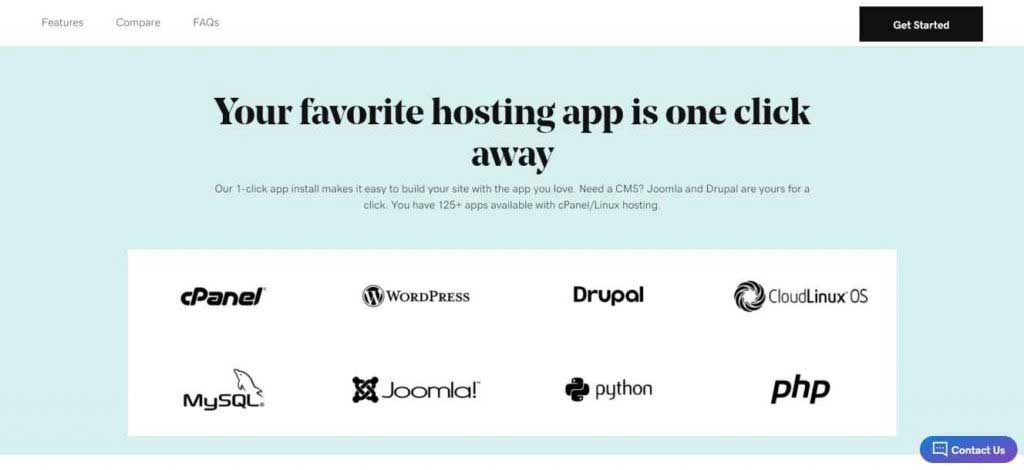 GoDaddy also has its own website builder in which you also get drag-and-drop functionality. This is very good for those people who create a website for the first time, and who do not have knowledge of coding nor development.
But for those of you who want a little more than this, then let me tell you that in this you can install more than 125 applications on just one click. It also includes content management platforms such as WordPress, Drupal, and Joomla.
You also get developer tools such as MySQL, cPanel, Python , and you also have different versions of PHP .
Simply put, GoDaddy's app installations have everything a beginner blogger, tech-savvy webmaster and everyone else needs.
When you first buy a GoDaddy plan, it will not cost you that much. So we cannot say that it is one of the few cheapest web hosting providers . But, their rates are very competitive. Now we will tell you about godaddy web hosting price.
GoDaddy plans start at just $5.99 per month. Even if you take their most expensive shared hosting plan, then that too costs you $240 every year.
This is awesome in my opinion, considering they have great uptime and fast page loading rate like we told you. I hope
You must be understanding everything in GoDaddy Web Hosting Review . If you face any problem then you can ask us in comments.
So if you are looking for a budget friendly host then GoDaddy would be a very good suggestion.
Second Considerations
GoDaddy gives you many more great features. Their plans are very good options for many websites.
However, that doesn't mean it's the best.
You also need to keep these drawbacks in mind before you use it.
Upsells and increased renewal rates
One of the reasons why GoDaddy offers such cheap plans is that they let you upsell them going forward. This means that you will have to pay extra for the "extras" you take.
That's why the price you see seems more than what you see.
Another problem with pricing is renewal rates. To go to the lowest monthly rate, you have to take a contract of at least 36 months. Some of you would not like to take such a long contract.
As soon as your plan is renewed, after that you have to pay a higher rate than what you had signed up for. Although this is very common in the web hosting industry. if you like ours
If you like GoDaddy Web Hosting Review , then you can also read the rest of the review.
Rather, the price-spikes of GoDaddy are very low compared to other providers. Plus, some of their plans (like the Pro 5+ WordPress plan and VPS plan) get renewed at the same rate you signed up for. Then this is another good thing for you.
You do not get basic features in it

Extending your last point, I want to tell that GoDaddy has so many upsells because you do not get some basic features in their plans.
Many hosting providers give you SSL certificate for free in their basic plan only. Other providers mostly let you backup for free, and provide security with each of their plans, but GoDaddy doesn't give you all of that.
You have to buy all these things separately, or you can also upgrade to an expensive plan, which will be better for you.
In GoDaddy , you have to pay to migrate the site , you get this service for free with other providers, you get this service with some providers and not with some, and it is also worth noting that the site is migrated. If it takes ten days, it means that not only are you paying for this service but it is also happening very slowly.
Customer support
Customer support is a very important feature of website hosting. If you have a question or have a problem, it's important to know that you can talk to someone.
GoDaddy advertises 24/7 about their support for their plans, but their support is disappointing if seen. I have also read reviews of godaddy web hosting and they do not tell anything special about it.
That's why I will not just sit and speak ill of them. I just went to their site a while back and there I talked to a live chat agent and I was connected recently so according to me it is not so bad.
After telling this, I also want to tell you that the review website and customer forums are still full of complaints regarding GoDaddy's support and customer service.
Yes, we can say that people complain about bad experience more quickly, but the amount of complaints lodged shows that their support is not very good.?
Domain registration
It is worth noting that GoDaddy is known for its domain registration and not for its web hosting services.
But I will not recommend you web hosting in godaddy for domain registrar. You may wish to use it in your plan, but you can get a better option elsewhere.
Compare GoDaddy's Web Hosting Plans
Web hosting comes in different ways. GoDaddy gives you a lot of options to meet the needs of any website.
Let us now tell you about the godaddy web hosting plan.
There are many hosting plans available here for you to choose from.
Shared hosting
WordPress hosting
VPS hosting
Reseller hosting
Dedicated hosting
They have plans for basic sites, blogs, small businesses, agencies, and much more. Let us give you complete information about their plans.
Shared Hosting
It is used a lot for new sites, who create a site for the first time. Because shared hosting is the way to save the most money when it comes to hosting a website, it is great for those who build the site from the beginning or make a small website.
Bottom line: Prices are good in this. If you are creating a new website, then the traffic will not come on it that much, so your hosting work should be done in $5.99 every month.
Although according to me you should take the ultimate plan at least for money. He gives you the best service according to the amount you pay and the resources, which will help your site to grow easily and will also scale up the traffic.
In all shared hosting plans, you get free installation on one-click, more than 125 apps and security monitoring is also available 24 hours a day.
If you want, you can also buy additional resources such as RAM and CPU from your admin dashboard by just one click.
Their control panel is also very easy to use for anyone, it does not matter how much experience they have in web hosting. I hope you are liking this review on godaddy web hosting.
WordPress hosting
WordPress is the most used CMS in the world, so it may be that you are using or planning to use it for your website. So if this is true, then you should definitely take a look at the WordPress hosting plans that GoDaddy gives you.
If I tell you the simple thing, it is that WordPress hosting also comes in shared web hosting. The slight difference between them is that WordPress comes installed automatically.
GoDaddy also does nightly backups and automatically updates the version of WordPress to the latest version if you take any of these plans.
If you want these benefits, then you will have to pay a little more than the price-points which are their traditional shared hosting plans.
Starter — It starts from ₹99.00 /mo every month (renews from ₹199.00/mo).
Economy — It starts from ₹199.00 /mo every month (renews from ₹449.00/mo)
Deluxe — Starting from ₹ 299.00  /mo per month (renews from ₹ 599.00/mo)
Ultimate—It  starts from ₹449.00 /mo( ₹999.00/mo renew at this rate)
In WordPress plans, you get a pre-built site template and drag-and-drop page editors are also available with it. This is a good feature for when you create a new website.
GoDaddy promises 99.9% uptime for WordPress hosting plans as well.
In these plans, you can bring more than 4,00,000 visitors per month on only one site. You also get a built-in SEO wizard in all of these, except for the Basic plan. You also get built-in signup forums in all the plans.
VPS hosting
GoDaddy gives you both managed and self-managed hosting plans. Although you have to pay a little less money in self-managed but it is only recommended for advanced users.
With that in mind, let's now look at the managed virtual private servers that GoDaddy provides.
As we have seen in other plans, it is available at a slightly discounted rate when you renew your VPS plan.
When you use a virtual private server, you also get enhanced speed and performance as more server resources are allocated in it, that too only for your website.
GoDaddy gives you 4 CPU cores, 8 GB RAM, up to 200 GB storage. But if you want to take advantage of it, then you have to take their Expand package.
In their entry-level Launch VPS, you get 1 CPU core, 2 GB RAM and 40 GB storage. And as thought, the resources you get in other plans are in the middle of them.
GoDaddy VPS is great for those who have multiple websites or want to build an e-commerce website. GoDaddy VPS is also used as a test environment for both websites and apps.
You can also use GoDaddy VPS as an email server or data server.
Dedicated servers
I like dedicated servers from GoDaddy because of their prices. For those who are looking for a low-cost dedicated hosting plan, GoDaddy is a great option to choose from.
When you see them for the first time, these prices may not be so good to you. But this thing will happen till you do not compare them with shared hosting plans.
If seen, then you get it at a better rate than other dedicated servers in the market.
Dedicated hosting is not for everyone. If you want to make a small website, you want to make this site from the beginning, then you can take the shared plan of GoDaddy only. Dedicated servers are great when you want to build a large website that requires complete control and flexibility.
In dedicated servers, you get full root access and there are no restrictions on resources.
GoDaddy gives you self-managed, managed, and fully managed options in dedicated servers.
You should use GoDaddy's dedicated server only if your site has a lot of resources or the traffic volume is increasing more than the limit of your VPS plan.
Reseller hosting
Reseller hosting is good for developers, designers, and agencies who want to earn more profits than clients.
GoDaddy makes it easy for you if you need to add some tools to any hosting plan such as invoicing, payment options, and managing support tickets.
Let us tell you about the pricing of reseller plans:
Enhanced — Starting at $39.99 per month.
Grow — Starting at $49.99 per month.
Expand — Starts at $64.99.
Installed — Starts at $89.99.
You get a free integrated WHMCS license in all GoDaddy reseller plans for up to 250 accounts.
GoDaddy lets you sell more products to your clients, like other GoDaddy products or other third party products. This is a great way to give a one-step solution to your clients, in this your profit also increases a lot.
Conclusion:
Bottom line: We would highly recommend you GoDaddy if you are looking for web hosting and domain registration solution.
We can also talk about this because their customers are in millions of people all over the world, they give you very good solutions – their marketing tactics can be a little messy.
Here we will tell you the solutions which it gives you:
In my opinion, you should definitely check out GoDaddy's shared, dedicated, and reseller, they are the best. I would recommend you godaddy for web hosting, if you are thinking of starting a website, then definitely checkout it.
So if you are looking for a webhost, then GoDaddy must be on that list because it gives you many advantages as we told you in this review.
But you have to keep in mind that you have read and understood all its major drawbacks before you take any final decision regarding it. I hope you liked this godaddy web hosting review, thank you!
Read more here…. 
If you have any questions and suggestions, do not forget to comment below, thank you again from your heart for reading this post!