Hostarmada Hosting Review : Are you looking for faster but affordable web hosting? So choose HostArmada to host WordPress website, it is budget friendly as well as reliable.
Topic of this article :
What is HostArmada? with its data center
its user interface
Their hosting performance with report
Its features list and benefits of using HostArmada
Pros, cons, pricing, and more
A great web host also has a hand behind the success of your website. From security to speed, everything depends on your web host.
That's why you should be careful while choosing a web host. If you are a beginner, you have just started or want to do so, then choose a host that is affordable and also gives excellent features. And with this only the picture of HostArmada comes out.
This review of ours will give you information about its features as well as performance test so that you can reach a decision whether you should take HostArmada or not.
HostArmada Review: Should You Get Its Hosting?
What is HostArmada?
HostArmada is cloud SSD based platform, which provides you 99% uptime, super-fast website experience and 24/7/365 customer support assistant.
HostArmada is new in the world of hosting. It was launched in 2014 but it is becoming very popular among users due to its pricing, features and fast connectivity.
To provide fast website experience to its users, HostArmada currently has 9 data centers built across the globe.
List of their data centers:
Fremont, California, USA
Dallas, Texas, USA
Newark, New Jersey, USA
Toronto, Ontario, CA
London, United Kingdom
Frankfurt, Germany
Bangalore, India
Singapore
Overview of HostArmada's Features
List of some of the amazing features provided by HostArmada:
Free SSL for all sites
Daily backups
Cloud SSD storage
Unmetered bandwidth
Unlimited emails and databases
free website transfer
wordpress installation in 1 click
free drag and drop site builder
Server cache
Money-back guarantee in 43 days
99.9% Uptime
24/7/365 customer support
How to Start a Blog on HostArmada: Step by Step
Hostarmada review, Are you bored with your current web hosting? Are you looking for a host that is affordable as well as gives many features. So we have brought this review for you, if you like it, then what should be the delay, start today with HostArmada of your blog. From this easy tutorial:
Go to HostArmada's website there you will find many hosting plans
Their Shared Hosting Plan starts at $2.69/month. You will get a discount of 70% on limited time coupon "xxxxx".
Click on "Plans & Pricing", you will see their 3 Shared Hosting Packages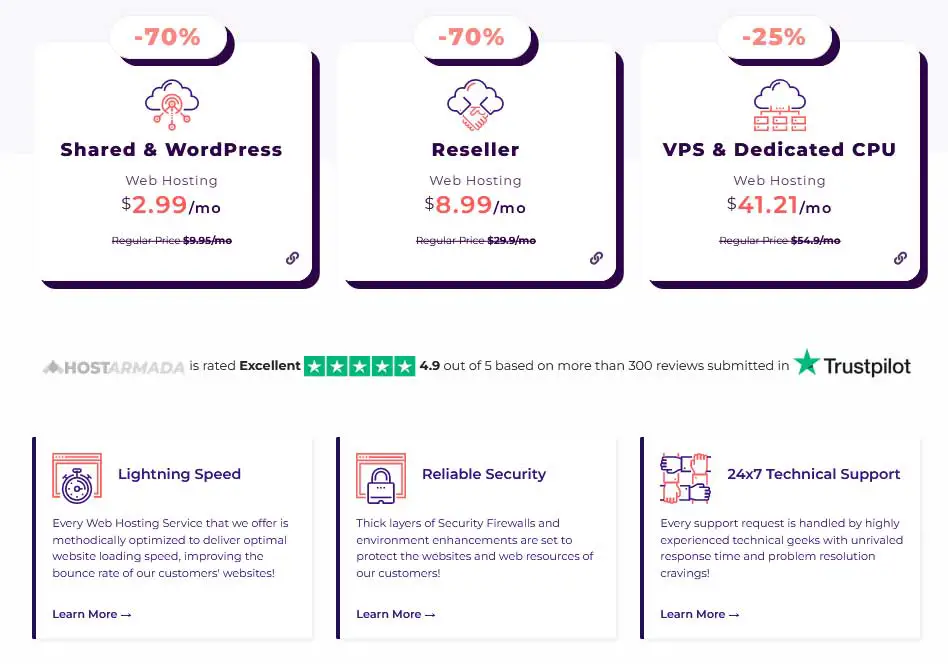 If your budget is tight and you want to host only 1 site, then it would be better to choose Start Dock Plan. Otherwise we would recommend you to go with Web Wrap or Speed Reaper Plans, as this plan allows you to install unlimited sites
After choosing your plan you will be redirected to their domain registration/transfer page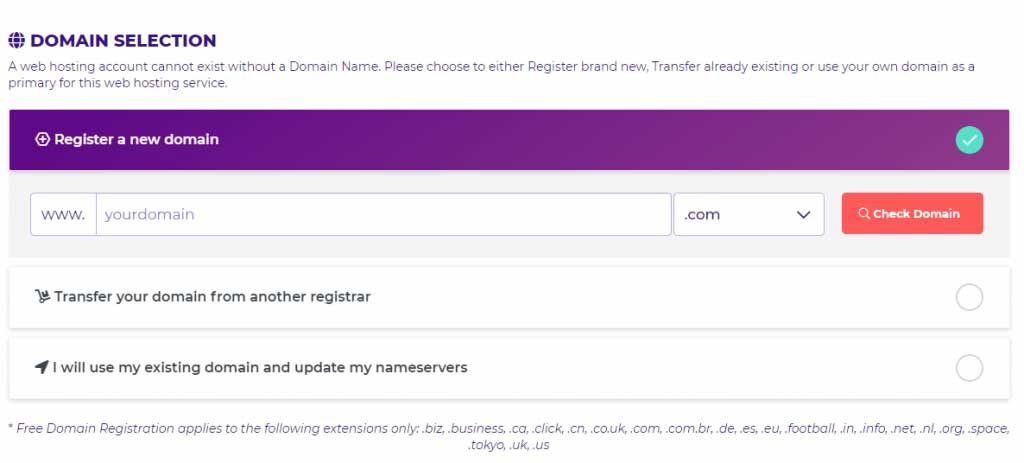 Note: HostArmada offers you free domain registration only as long as you remain its customer. If you only want hosting, then you can use your existing domain with another registrar as well.
After this you will be redirected to the billing cycle
Select your billing cycle
Note: Select 36 months billing cycle. In this, you will be charged $2.69/month payable fee for 3 years basic plan. If you choose 1 year plan then you will have to pay more after 1 year due to their high renewal rate.
To give a fast web experience to your audience, choose a data center near the target audience. Then proceed to payment and you will receive a confirmation e-mail.
If you go with their basic plan Start Dock then you can get free domain for 1 year for just $33. On purchasing their hosting package, you can ask their support staff to install SSL certificate, WordPress and etc. It is absolutely Free of Cost.
User Interface of HostArmada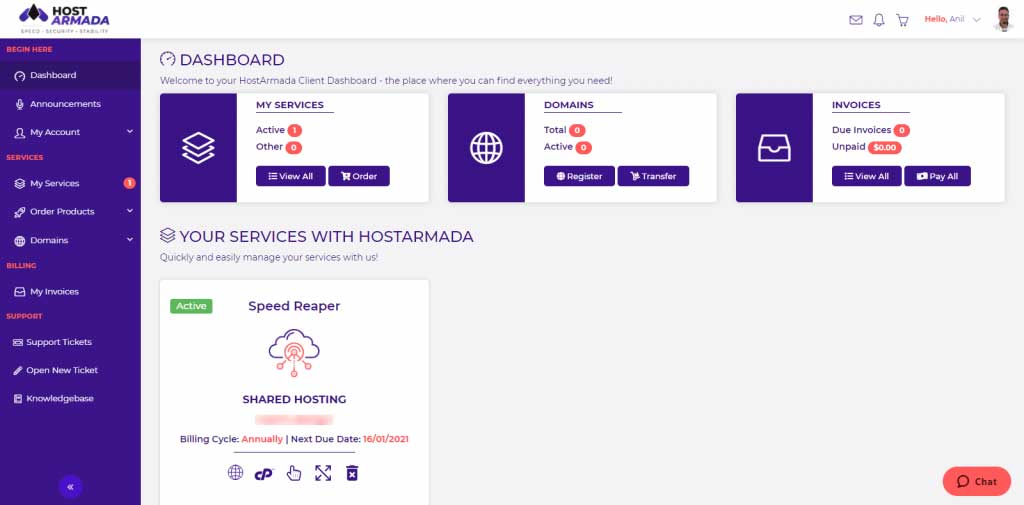 You can manage everything from their hosting billing cycle to domains, services, etc., from their dashboard.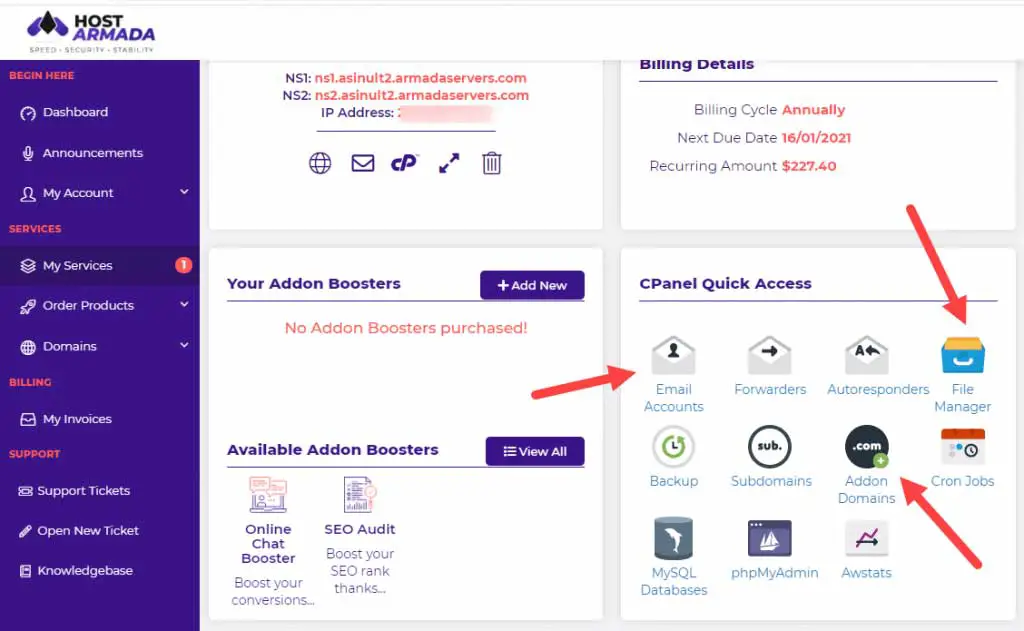 As you will see, you will get instant access functionality from cPanel where you can manage everything from email account to file manager, backup to domain, database etc.
How good is HostArmada's speed and performance?
We did a quick test on our test website with HostArmada Hosting. We would like to share its performance and speed with you so that you can get some information about their hosting performance.
GTMetrix performance report

Performance score:
Page speed score: A(99%)
YSlow Score: A(92%)
Page details:
Fully loaded time: 1.3 sec
Total page setup: 809KB
Request: 11
As you must have seen above, their hosting is quite fast. And performance also you get A grade with YSlow score 92% (99% out of 100).
Note: Your website speed and performance depends on the hosting data center you have chosen. So make sure to choose a data center close to where your target audience mostly browses/visits. This will give them faster loading time and increase the number of your visitors.
Bitcatcha's performance report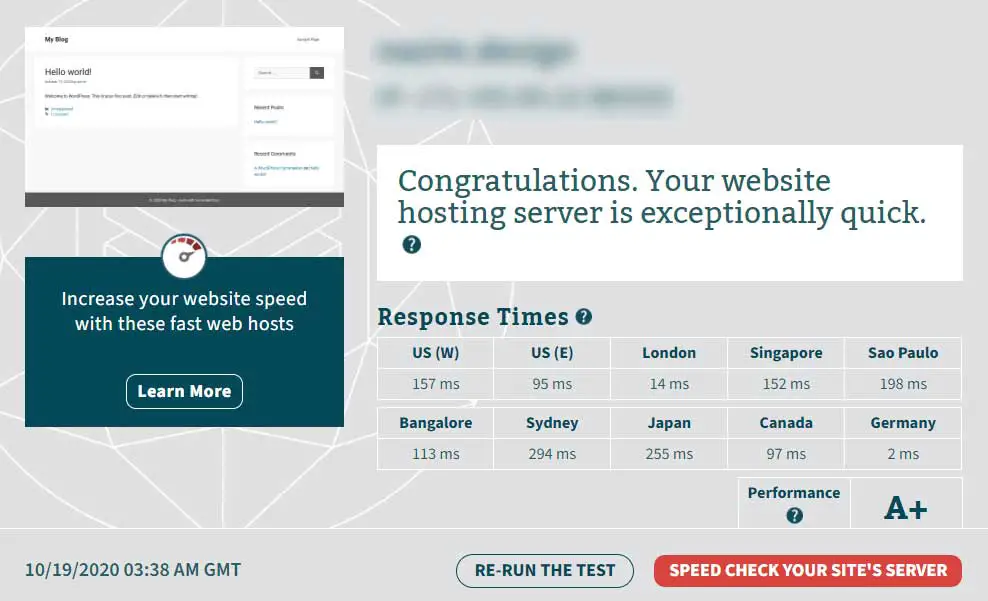 Bitcatcha's performance is also very good. We tested it too.
Its response time in different countries was :-
US (W): 157 ms
US (E): 95 ms
London: 14 ms
Singapore: 198 ms
Bangalore: 113 ms
Sydney: 294 ms
Japan: 255 ms
Canada: 97 ms
Germany: 2 ms
Performance – A+
As you can see, the response time was extremely fast with A+ performance globally.
Google Web Vitals Report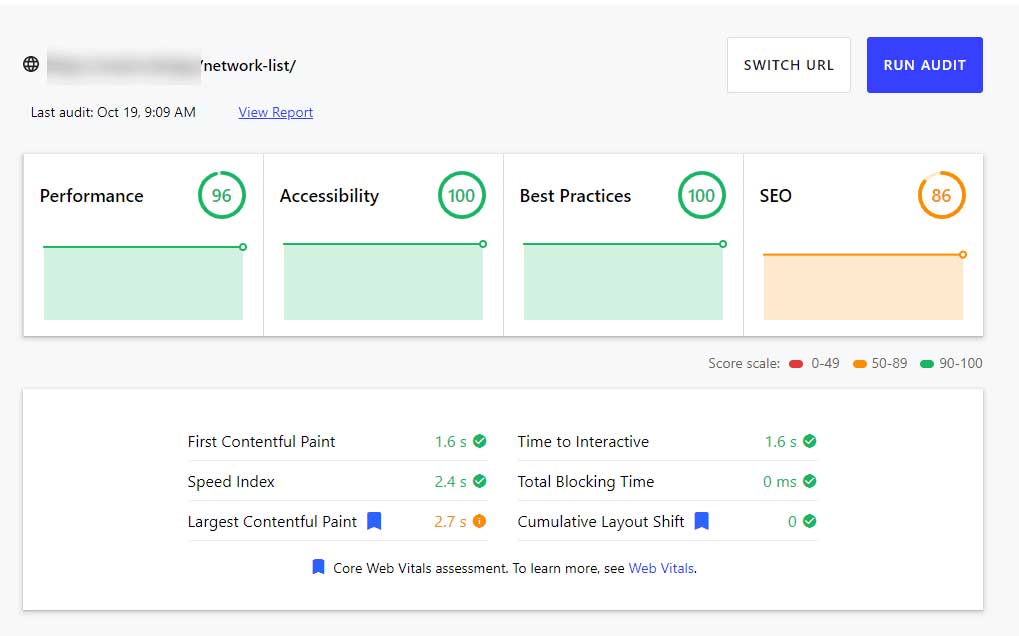 Performance: 96
Accessibility: 100
Best practices: 100
SEO: 86
As you can see, the overall performance, accessibility, and best practices of Google Web Vitals are exceptional.
Pingdom Speed Test Result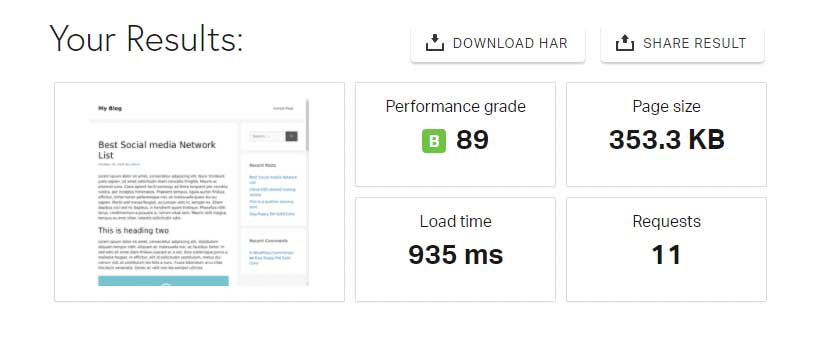 Performance Grade: 89
Page size: 353.3 KB
Load time: 935 ms
Requests: 11
As you can see, our new test site is loading within a second which is great.
HostArmada's overall website hosting performance, uptime and speed are excellent.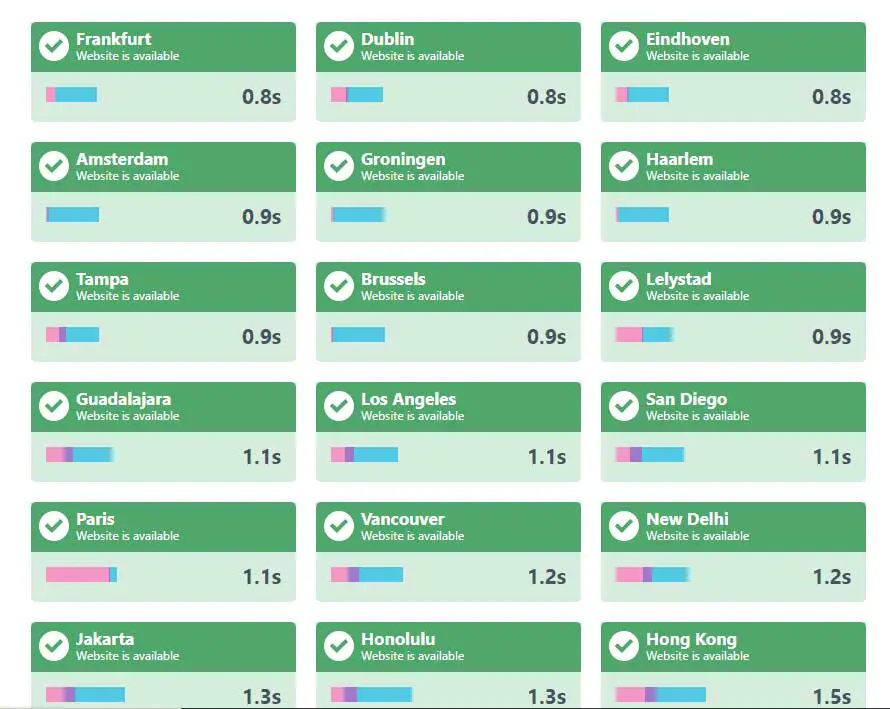 If you are looking for budget friendly host where you want with best hosting features, performance then definitely give HostArmada a chance. I hope you will not be disappointed.
HostArmada offers; its top 5 benefits
Hostarmada review : This question must also arise in your mind that there are millions of hosting providers, so why choose HostArmada? What is so special about HostArmada that we should invest here? So to remove your confusions, we are telling the top 5 benefits of using it.
1. Faster website loading times
If you are associated with blogging, then surely you will know how much importance is of fast loading website. Faster loading times attract your website visitors towards you, they are very happy with it. Along with this, your SEO also improves (because Google likes speed very much).
Google has indicated that website speed (also "page speed") is one of the signals used to rank pages. Google does not like slow loading websites as it greatly reduces the user experience.
According to a study by Backlinko, the average page load speed for any website plays an important role in higher ranking. This study was done with one million websites on Google.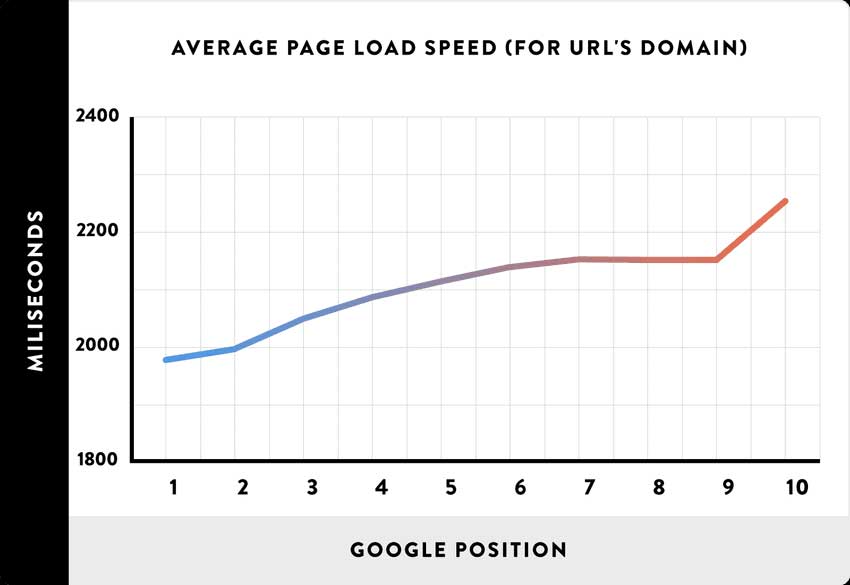 So if you are looking for the fastest website hosting for your site, try HostArmada as their technology improves your overall website loading time.
Learn here how HostArmada achieves faster website loading times:
Uses Cloud SSD drives (faster read and write times, 300% faster than conventional HDDs)
LightSpeed ​​which helps to speed up WordPress sites
Memcached cache
Offers free cloudflare CDN so anyone browsing your site from anywhere in the world can experience faster loading times
Brotli compression (reduces page load time as well as page size)
HostArmada uses LiteSpeed ​​Web Server, which has better performance than both Apache and NGINX web servers.
2. Fewer clients per server
Most of the people use shared hosting plans for one reason only because it is economical. It is available at very affordable rates.
But the problem with shared hosting is that the hosting resources are shared with many people on the same server. This makes each website take too long to load. Slower loading time causes frequent downtime problems.
You do not see this problem in new web hosting platforms such as HostArmada because very few people use a server here.
This gives you facilities like better resources such as CPU, speed performance and low server load. So you do not need to compromise on speed and downtime. They also claim 99.9% uptime.
Not only this, all of these shared hosting plans come with cloud SSD drives which work 300% faster than HHD drives.
3. Free Website Migration Service
Are you still using a web host that you don't like? Do you want to migrate your site/s to a better hosting like HostArmada? So you can do it easily because they provide you site migration for free.
They will migrate everything from files, folders to all databases and emails from their servers for free.
For this, you will have to contact their customer service and buy their hosting and ask them for a free migration. They will do the rest of the work for you.
Apart from free website migration services, you can also avail the following services free of cost:-
Free SSL certificate installation
WordPress installation (if you want, it will install for free)
Free SSL renewal on all domains
Free transfer of your WordPress website
You will also get a free domain name and as long as you remain their customer, they will renew it for free. So this is a great opportunity if you haven't bought a domain yet and are looking for an affordable host to run your site on.
4. Bulletproof Security
You will also be aware that nowadays thousands of WordPress websites are hacked every day. If you didn't know by now, then know now.
Once a site is hacked, it is filled with malware. Many times hackers redirect the user from your website to other malicious sites. This has happened to us as well.
Therefore, you have to take special care of the security of the site, even if the site is new.
When it comes to website security, the role of your web host becomes important. Therefore, choose the host after a lot of thought. Fortunately, HostArmanda's hosting environment is equipped with thousands of excellent security features. With this, the sites being hosted on that server get bulletproof security.
Here some of their security features are mentioned which are worth keeping in mind :-
Using the "connection limit" limits the number of requests per second to a single IP address to a certain limit. This reduces the risk of DoS attacks.
Provides Web Application Firewall Solution (WAF) that takes care of threats such as XSS attacks or SQL injection.
Prevents Distributed Denial of Service (DDoS) attacks
Apart from the above, they also often perform malware scanning, live security monitoring, intrusion detection, proactive zero-day attack detention, etc.
5. Wide range of Freebies
Another major reason to consider HostArmada to host your site is that they offer a long list of incredible freebies which are listed below:-
Free SSL certificate: If you want to secure your domain/site from HTTP to HTTPS secure version then you will need SSL certificate and they establish a secure encrypted connection between browser and server. Google gives more importance to sites/domains with HTTPS.
HostArmada offers free SSL certificates for an unlimited number of domains (depending on your hosting plan). If you need help, they install SSL certificates for free.
Free daily backups: Maintaining a daily backup of your websites is a daunting task. But if you do not want to lose the data of any website, then you have to take regular backup of your site. Most of the web hosts do not provide free backup or they charge extra premium for providing backup but HostArmada provides them for free.
The good thing about HostArmada is that all their cloud SSD hosting plans have automated cPanel backup activated by default. So if you accidentally lose data then you can restore your files.
Free domain register or transfer: Most web hosting companies charge extra for domain name registration. HostArmada provides you free domain registration.
The best part is – as long as you remain their customer, you will not need to pay for domain renewal. Also, they offer free domain migration if you already have a domain.
Free private DNS: Except their basic shared hosting plan, all plans give you access to free private DNS. Private DNS (Domain Name Server) is usually created with a domain that you control to replace the nameserver provided by your web host.
HostArmada Pricing and Plan
HostArmada gives you 3 pricing plan in its managed cloud SSD shared hosting environment. Which are the following:-
Start Dock
Web Wrap
Speed ​​Reaper
So let's talk about these plans in brief along with its pricing and features.
Start Dock: This is the cheapest and cheapest shared hosting plan from HostArmada which costs you only $2.69 per month where you will get the following hosting limits:-
Install 1 website
15 GB cloud SSD storage
2 Cores CPU
2 GB RAM
Unmetered bandwidth
free domain registration or transfer
Suitable for a site that has 10,000 visitors
7 daily backups
Web Wrap: If you want to set up unlimited sites/domains, this plan is for you which will cost you $4.49 per month along with the following features:-
Install unlimited websites
30 GB cloud SSD storage
4 Cores CPU
4 GB RAM
Unmetered bandwidth
free domain registration
3 free domain transfers
Suitable for a site that has 60,000 visitors
14 daily backups
free private DNS
Speed ​​Reaper: If you are looking for ultimate website speed, then this plan is for you which will cost you $5.69 per month. It provides you the following facilities:-
Install unlimited websites
40 GB cloud SSD storage
6 Cores CPU
6 GB RAM
Unmetered bandwidth
free domain registration
5 free domain transfers
Suitable for a site that has 120,000 visitors
21 daily backups
free private DNS
LiteSpeed ​​webserver
Dynamic LS caching for WordPress
You can upgrade to the higher plan anytime according to the growth of the site. From HostArmada's client area, visit their "upgrade centre" and choose the plan that suits your needs.
If you still need any help upgrading to a better plan, you can contact their technical support team which is available 24/7 and they will help you with everything you need.
Pros and Cons of HostArmada
Every coin has two sides. If there is a positive aspect in someone, then there must be some negative side as well. HostArmada is also available to use. Hostarmada review, their pros and cons are listed:-
Pros
They keep the number of clients on each server low. This helps you with the fastest website loading times and connectivity.
Their shared hosting plan is only at $2.69/month and they are cheaper than other hosting providers.
You will get a free domain as long as you remain their customer (most web hosts do not do this as they only offer a free domain for 1 year).
Get free daily backups that are stored remotely
Fully managed control panel is available
It provides free website migration
You do not have to pay any extra fee for canceling your service.
Offers 45-day money-back guarantee
Their customer support is extremely fast and operates 24/7/365
Their data centers are set up at 9 locations around the world to deliver optimum speed
You get all their shared hosting plans with a free drag – and – drop website builder.
SSD storage is available with all plans
Provides security firewalls to protect your site from security vulnerabilities
Cons
Promotional pricing plans are valid for the first signup period only. On renewal, the regular price has to be paid. Hence to save more on their hosting plans going with their trinial plan (36 months) would be a better option.
---
---
Its review by users
We tried to find the answer from many different platforms about what people think about HostArmanda hosting. which we are sharing with you.
HostArmanda Trustpilot Review
On TrustPilot, HostArmada has got great reviews (4.9 out of 5) and most users are happy with their services so far.
HostArmada-trustpilot review

HostArmanda Facebook Review
HostArmanda has got a 5 star rating on Facebook.
Users of HostArmanda seem satisfied with its hosting service and features.
How is the customer support?
Hostarmada review, they provide 24/7/365 customer support assistance through Phone, Ticketing system and Live chat.
Even while writing this review, we messaged their customer support team via live chat and got their reply immediately.
Who doesn't want an instant answer? That's why we gave 10/10 ratings to their customer support assistance. Their customer support team is experienced and does everything possible to assist you from website transfers to domain registration, transfers, SSL installation to cPanel assistance.
FAQ's
Q. What is HostArmada?
Ans. Hostarmada review, HostArmada is the fastest growing web hosting company which provides innovative and creative approach for Cloud SSD web hosting solution.
Q. Is HostArmada's WordPress hosting service cloud based?
Ans. Yes, their WordPress hosting plans are powered by the virtualised cloud platform of KVM® virtualisation technology which ensures that all web hosting servers use 100% dedicated resources.
Q. What are all the WordPress hosting plans available on HostArmada?
Ans. HostArmada gives you 3 plans for WordPress hosting, Star Dock, Web Wrap, and Speed ​​Reaper, costing you $3.99/month, $4.69/month, $5.66/month.
Q. How reliable is HostArmada's WordPress hosting?
Ans. 99.9% Uptime, security patches, up to date web hosting environment, and constant server monitoring, all these features make it a stable and reliable web hosting service for all.
Q. Can I get a free domain name on HostArmada?
Ans. Yes, all its hosting plans have the facility of free domain name.
Q. Does HostArmada also offer free WordPress website transfer?
Ans. They will transfer 1 to 3 WordPress websites for free, along with all your emails, depending on the package you choose.
Q. How are HostArmada's backup facilities?
Ans. HostAramda provides automated daily backups for all websites hosted on their servers, which you can restore as needed, directly from the control panel.
Q. How secure is my site with HostArmada WordPress Hosting service?
Ans. Their experienced technical staff and system administrative team have come up with security solutions that have time-tested protocols that cover almost 99% of internet attacks and try to patch any vulnerability at the server level.
Q. How can I contact HostArmada technical support team?
Ans. You can contact their support team through call, live chat session, or ticket system which is available 24/7/365.
Conclusion : HostArmada Review
HostArmada quickly established itself as a top hosting company as compared to its counterpart providers that offers fast and secure web hosting with 24/7/365 customer support. Their pricing plan is very cheap.
It also provides hosting service like free domain, website migration, backup, SSD storage, and more.
So what are you still waiting for? If you are looking for an affordable hosting option, don't wait and try HostArmada and ask us if you have any questions.