Hello friends in this article we will know Antispam Bee WordPress Plugin, Stop Spam Comments, Antispam Comments WordPress Plugin, Antispam Comments Plugin
Does your WordPress site get a lot of spam comments? Spam comments can cause issues in your website ranking. In this article, we will tell you how to block spam comments using Antispam Bee WordPress Plugin.
Spam Comments take unnecessary space on your WordPress hosting. There are many ways to remove and block spam comments from WordPress site. If you want, you can manually remove and delete it one by one, in which you will spend a lot of time.
Alternatively, you can use the Antispam Bee plugin to deal with these WordPress spam comments. This WordPress comment spam plugin automatically blocks spam comments from your site.
Stop Spam Comments Using Antispam Bee WordPress Plugin
First of all install and activate Antispam Bee WordPress Plugin in your site. Click here to install the plugin. After installing Antispam Bee plugin, click on Settings >> Antispam Bee.
Here you'll see Antispam Bee settings divided into three sections – Antispam Filter, Advanced tools, and More options.
Antispam Filter
Antispam Filter settings are the basic settings of antispam that help you detect spam comments. For its settings follow the screenshot below,

Apart from this, in this section you can block comments from any specific country and select a certain language for comment.
Advanced Tools
In advanced settings, you can set options to manage, block and delete unwanted comments. In this, some default settings are enabled, which you can change according to your need.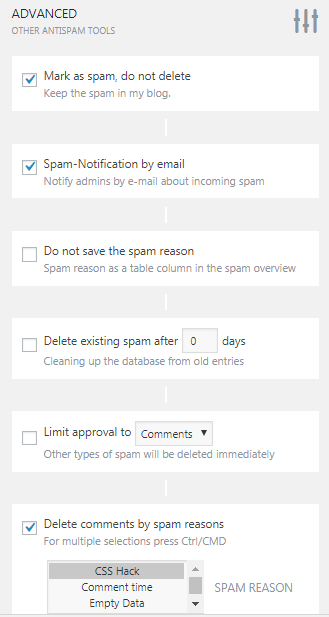 More Options
Here you do not need to make any changes. You leave this option as the default
Once Antispam Bee Settings is complete, click on the Save Changes button. You can comment for any type of question or suggestion related to this article.
Read more article:
Which plugin do you use for spam blocker in your WordPress blog? If this article has proved to be helpful for you, don't forget to share it!